Introduction
Dexketoprofen, an aryl propionic acid derivative, is a nonsteroidal anti-inflammatory drug (NSAID) with analgesic, anti-inflammatory and antipyretic properties. It is available in various countries in Europe, Asia and Latin America. Dexketoprofen API is used as a drug for managing mild to moderate pain associated with dysmenorrhoea, migraine, and knee pain and is also used in cases of post-surgery in dental or no dental procedures. It is available in the form of tablets, gel and also as injectable.
D
exketoprofen Trometamol API Market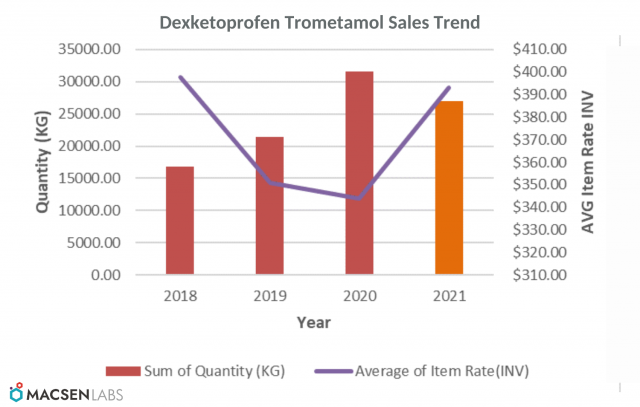 Export from India
The annual quantity of API export from India has increased from 2018 to 2020, then there is a slight decrease in 2021. 

The avg. Item rates have declined since 2018 and remained constant throughout the2019 and 2020 and have increased again in 2021 probably due to less supply. 
Major Importing Countries
Major Countries Importing are Turkey and Spain.

Other Countries importing significant Quantity is Germany, Guatemala, Mexico & Switzerland.
Major Exporting Countries
India has been a hub for manufacturing and supplying APIs to the global pharmaceutical industry. India is the largest exporter of this API although the net quantity has seen a drop due to the challenges that might have been created by the global pandemic. The export quantities from India for this API should increase in due course. China and Italy are other significant exporters of this API. It is unknown what their exact contribution is to the export volumes because of the lack of availability of trade data from both countries.
Macsen Labs is the supplier of best-quality Dexketoprofen Trometamol

Disclaimer–
The information provided here is based on general knowledge, articles, research publications etc and we do not claim the authenticity of any of the information provided above. We do not claim or suggest/advise any medical, therapeutic, health or nutritional benefits of Dexketoprofen Trometamol. We do not supply or promote our Dexketoprofen Trometamol product for the applications which are covered by valid patents and which are not approved by the FDA.