Home » Blog » Isosulfan Blue » 
What is Isosulfan Blue
Isosulfan Blue is a  visual lymphatic imaging agent. It belongs to the class of diagnostic imaging agents. It is a laboratory-created dye that helps in the identification of the sentinel lymph node (the first lymph node that cancer spreads to form a primary tumour). It is used in Lymphography (medical imaging), which involves injecting Isosulfan blue to assess the function of your body's lymphatic system. Isosulfan blue dye stains lymph nodes and lymph arteries. When injected into the tumour's periphery, IB localises to the lymphatic system and making it possible to identify sentinel nodes that have been stained blue by the tumour.  This dye is highly significant for medical use and can only be used under strict prescription by a doctor.
Note for the reader – In a few instances, this article refers to Isosulfan blue as IB.
Chemical Properties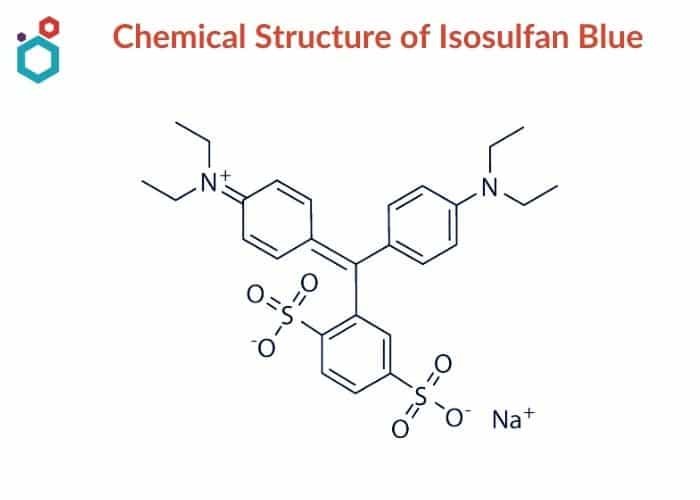 PROPERTIES OF ISOSULFAN BLUE
IUPAC Name
sodium;2-[[4-(diethylamino)phenyl]-(4-diethylazaniumylidenecyclohexa-2,5-dien-1-ylidene)methyl]benzene-1,4-disulfonate
Synonyms
Sulphan Blue; Iso-sulfan blue; Azul isossulfano; Blu isosulfan; Azul de isosulfán; Bleu isosulfan
CAS No.
68238-36-8
Molecular Formula
C27H31N2NaO6S2
Molar Mass
566.7 g/mol
Appearance
Hygroscopic powder in greenish-blue color
Solubility
Solubility in water, 30 mg/mL at 25 °C; in ethanol 7 mg/mL.
Use
To distinguish lymphatic vessels
PubChem CID
50108
PubChem SID
462770291
Isosulfan Blue Injection Brands
| Brand | Company | Country |
| --- | --- | --- |
| Lymphazurin | United States Surgical Corporation | United States |
| ISOSULFAN BLUE injection 1% | Aurobindo | India |
| ISOSULFAN BLUE injection, solution | Dishman Pharmaceuticals | India |
| ISOSULFAN BLUE injection 1% | Apicore | United States |
| ISOSULFAN BLUE injection, solution | Indoco Remedies Limited | India |
| ISOSULFAN BLUE injection | Meitheal Pharmaceuticals Inc. | United States |
| ISOSULFAN BLUE injection | Somerset Therapeutics, LLC | United States |
| Lymphazurin | Covidien, Ltd | United States |
| Lymphazurin 1% | Tyco Healthcare | Canada |
| ISOSULFAN BLUE injection, solution | Mylan Institutional LLC | United States |

Dosage and Administration
Route of administration: Subcutaneous Administration
Dosage: 1% aqueous solution (Isosulfan blue, Lymphazurin 1%). LymphazurinTM 1%, in a half-ml dosage, to be injected subcutaneously into three (3) interdigital regions of each extremity as part of a research. Injections of IB should not exceed 3 ml (30 mg).
Uses of Isosulfan Blue
Lymphography (which evaluates the function of your lymphatic system) is performed using injections of Isosulfan blue. IB injection establishes lymphatic vessel boundaries when administered intravenously. The lymph nodes and lymph vessels are stained blue after being injected with dye. By using the contrast between lymph nodes and vessels, your doctor is able to detect serious autoimmune diseases such as lymphedema, chyluria, chylous ascites, and chylothorax. You can only get Isosulfan blue dye from your doctor if you have a prescription.
It is also used in the colouring of some medicinal products, dyeing and printing of wool and silk.
Isosulfan Blue vs Methylene blue
Methylene blue is much cheaper than Isosulfan Blue.
Methylene Blue does not cause hypersensitivity reactions (except skin necrosis) whereas side effects such as blue discolouration of urine, stool and skin are common with Isosulfan Blue.
Methylene blue is as good an SLN (Sentinel lymph node biopsy) mapping agent as Isosulfan blue.
In developing countries, Methylene blue is the agent of choice for SLN mapping due to its cost-effectiveness.
Refer here to know more.
Isosulfan Blue Side Effects
Some of these side effects may appear after taking the medicine:-
Anxiety
Confusion
Clammy skin
Blue discolouration of the skin
Difficulty swallowing
Double vision
Dizziness
Fast heartbeat
Fast, weak pulse
Hives or welts
Numbness
Itching
Eyelids, lips, tongue, or face puffy or swollen
Redness of the skin, skin rash,
Shortness of breath, troubled breathing
Tightness in the chest
Sweating
Unusual tiredness or weakness and wheezing.
While your body adapts to the medicine, these side effects may disappear.
Isosulfan blue dye can cause allergic reactions. An important complication in the procedure for surgeons can arise from it. Patients must be informed of this risk prior to the procedure.
Critical to know before using
Please notify your doctor if you notice anything unusual or allergic after/before taking IB. Your healthcare provider should be informed if you are allergic to any type of other substance, such as foods, dyes, preservatives, or animals. Please read the ingredients cautiously when buying non-prescription products to avoid any side effects.
Isosulfan blue injection 1% is contraindicated in those individuals with known hypersensitivity to triphenylmethane or related compounds.
Isosulfan blue injections in Pediatric patients have not been properly researched. There are no safety or feasible studies available. Geriatric patients with IB injections have no information regarding the effects of their age.
As far, no studies or experiments have been performed on women regarding this medication, so it is important to consult. Before taking this medication while breastfeeding, weigh the ratio of associated benefits and risks.
It may not be safe to use IB if you have other medical problems. Any other illness should be reported to your doctor, especially: asthma or a history of any other drug reactions. Use with caution.
FAQs
Q. For sentinel node biopsies, what is the blue dye used?
Isosulfan blue is the dye used in sentinel lymph node biopsy. You can use a sentinel node biopsy to see if cancer has progressed beyond the main tumour into your lymph system. Most commonly, it is used to fight melanoma and breast cancer.
Q. Does Isosulfan contain sulfa?
Although IB contains sulfa moieties, it is not always necessary that patients who are allergic to sulfa will experience severe allergic reactions. In most cases, the dye turns out safe and allergy-free.
Q. What is Isosulfan blue used for?
Isosulfan blue is injected into various parts of your body during a lymphography procedure (medical imaging) to examine the health of your lymphatic system.
Q. Does Isosulfan Blue contain Iodine?
Isosulfan blue (IB), or Lymphazurin dye, is a synthetic triphenylmethane containing rosaniline dye used as a visual imaging agent in lymph node mapping procedures, particularly in sentinel lymph node biopsy for patients with breast cancer, melanoma, and other solid tumours.
Q. Is Isosulfan Blue the same as Methylene Blue?
No, both the compounds are different in their respective structure and uses.
Q. How is Isosulfan Blue excreted?
Up to 10% of the subcutaneously administered dose of Isosulfan blue injection 1% is excreted unchanged in the urine within 24 hours in humans. Thus, urine colour maybe blue for 24 hours following administration of Lymphazurin 1%.
Disclaimer–
The information provided here is based on general knowledge, articles, research publications etc and we do not claim the authenticity of any of the information provided above. We do not claim or suggest/advise any medical, therapeutic, health or nutritional benefits of Isosulfan blue. We do not supply or promote our Isosulfan blue product for the applications which are covered by valid patents and which are not approved by the FDA.
Macsen Labs is a manufacturer and supplier of Isosulfan Blue