Home » Blog » Silver Sulfadiazine » 
Silver Sulfadiazine was discovered in the 1960s. Since the 1800s, Silver nitrate has been used to heal burns, ulcers, and infected wounds. But after world war II the use of silver nitrate stopped and the use of SSD came into existence.
Silver Sulfadiazine is a popular topical antibiotic used to prevent infections. It is also included in the World Health Organization's Essential Medicines List. This medicine is widely available as a generic drug.
Note for the reader >>> In a few instances this article refers to Silver Sulfadiazine as SSD.
What is Silver Sulfadiazine
SSD Drugs belong to the class of Sulfa Antibiotics. It is used as an anti-bacterial agent in preventing and treating infections in burns. It is used to treat leg ulcers, burns, and skin graft donor sites.
SSD being an antibiotic works by killing the bacteria or preventing its growth and is effective against many gram-positive and gram-negative organisms, as well as against yeasts. It is used as an anti-infective for the prevention and treatment of wound sepsis of second and third-degree burns in patients.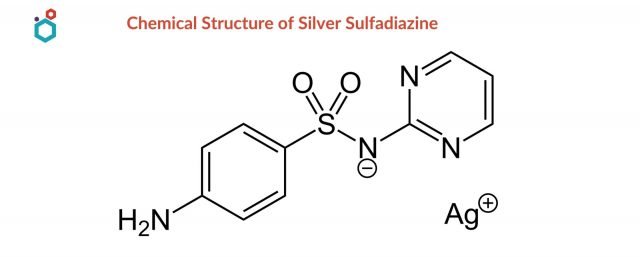 Properties of Silver Sulfadiazine
| Property | Description |
| --- | --- |
| CHEMICAL NAME | Silver [(4-aminophenyl)sulfonyl](pyrimidin-2-yl)azanide |
| PRODUCT NAME | Silver Sulfadiazine |
| CHEMICAL FORMULA | C10H9AgN4O2S |
| MOLECULAR WEIGHT | 357.14 (g/mol ) |
| MELTING POINT OF SILVER SULFADIAZINE | 285 °C |
| CAS NO. | 22199-08-2 |
| HSN CODE | 2935 |
| STORAGE CONDITION | Store at controlled room temperature 15° – 30°C. |
| Pubchem CID | 24424 |
| Pubchem SID | 462730477 |
Popular Brand Names
Silvadene
Silverex
Silverol
Silveleb
Silvazine
Flamazine
Thermazene
BurnHeal
Silvozin Tulle Dressing and SSD.
Uses and Benefits
SSD cures serious burns.
SSD stops the growth of bacteria which affects open wounds.
SSD reduces the risks of bacteria spreading to nearby skin or blood, which can lead to serious blood infections.
Macsen Laboratories Manufactures Silver Sulfadiazine API which is used in final formulations like Silvadene and Flamazine suitable for burns and scars.
What are the side effects, warnings and precautions for Silver Sulfadiazine?
Side effects
Pain
Burning
Itching
Rash
Cell death of the skin
Localized eruption of the skin
Deficiency of granulocytes in the blood
Discontinued production of blood cells
Low blood platelet count
Low white blood cell count
Adverse gastrointestinal effects
Inflammation of the liver (hepatitis)
Toxic injury to the liver
Adverse nervous system effects
Acute kidney failure
Swelling in the kidney
Warnings
If you are allergic to SSD or any of the chemicals in this medication, do not take Silvadene, Thermazene, or SSD Cream.
Keep out of reach of children. If an overdose is administered, get medical attention or contact a Poison Control Centre immediately.
Because of the possibility of significant side effects, SSD should not be administered to premature or newborn babies.
Precautions
Unless the burned area covers more than 20% of the body surface or the therapeutic benefits to the patient outweigh the potential risks to the foetus, it is not recommended for use in pregnant women.
Although SSD is minimally absorbed, it interacts with body fluids to generate sulfadiazine, which is absorbed and can reach substantial serum levels.
Only apply to the skin; keep out of the eyes.
FAQs
Q. Can I apply Silver Sulfadiazine to an open wound?
Yes, SSD can be applied to an open wound. SSD acts by preventing germs from infecting an open wound. This reduces the chance of the bacteria transferring to the surrounding skin or into the blood, where it might cause a severe blood infection (sepsis).
Q. How long does it take for silver sulfadiazine to work?
If your skin condition does not improve within 3 to 5 days, contact your doctor or a health care expert.
Q. Can silver sulfadiazine be used to treat itchy skin, such as insect bites?
SSD has anti-microbial properties; hence it can help in preventing any infection resulting from bug bites, but it will not help with itching.
Q. Can Silver Sulfadiazine (1%) be used on sunburn?
Apply 1 % SSD cream to severe sunburns, especially when blistering occurs. Patients using this treatment experience reduced pain and a faster recovery. Of course, before going ahead with this treatment, make sure you're not allergic to any medications.
Q. Can Silver Sulfadiazine be used in the nose?
SSD is a topical medicine and is only to be used on the skin. If SSD gets into your eyes, nose, or mouth, immediately rinse it out with water to avoid ocular toxicity and scarring.
Q. Can Silver Sulfadiazine be used on the Lips?
No, SSD cannot be used on lips because it is only for the skin. If you have applied it by mistake, rinse it with water.
Q. Does silver sulfadiazine burn?
Upon application of SSD, as a cream, the user may experience pain, itching or burning. But if any of these symptoms get worse or unbearable it is advisable to consult your doctor.
Q. Does silver sulfadiazine go bad?
Generally, when bought as a cream, SSD has an expiry date of seven days from the date it is opened.
Disclaimer-
The information provided here is based on general knowledge, articles, research publications etc and we do not claim the authenticity of any of the information provided above. We do not claim or suggest/advise any medical, therapeutic, health or nutritional benefits of SSD. We do not supply or promote our SSD product for the applications which are covered by valid patents and which are not approved by the FDA.
Other articles on SSD
Macsen Labs is a manufacturer and supplier of high-quality Silver Sulfadiazine.