What is Custom Synthesis?
In the pharmaceutical business, which operates on a worldwide scale and is driven by innovation, custom synthesis is a crucial service that serves the company's efforts in developing and expanding their product range. Custom chemical synthesis has deep roots in the process of drug discovery and development.
In custom synthesis, a corporation or customer requests that a molecule be produced specifically for them, at a certain scale, with the purity and using the specifications or processes specified by them.
Custom synthesis projects consisting of small-scale or low volume requirements which are generally for new molecules or molecules that are not commercially available are handled by organizations called CROs or Contract Research Organizations. For large-scale projects which include requirements of the chemical product in more than one ton quantity range, such projects should be handled by Contract Manufacturing Organizations or CMOs. Organizations that can handle all kinds of chemical research and manufacturing outsourcing requirements are a hybrid of CROs and CMOs, also known as CRAMs (Contract Research and Manufacturing).
Custom synthesis is one of the options open to drug developers in need of the active pharmaceutical ingredients (APIs) or other organic/inorganic chemicals to make their products effective if it is impossible or impractical for them to make these molecules and compounds in-house. It is a good idea to consider outsourcing the manufacturing of a product to professionals that specialize in the relevant sector.
It is a ritual in the industry that the contract is executed exclusively for the company giving out the contract and it is always done in accordance with confidentiality agreements. Custom synthesis can range in weight from a few milligrams to 10 kg or more.
Factors affecting Custom Synthesis
Before signing a contract for custom synthesis, there are a lot of crucial choices to make. A helpful framework for making decisions is to modify the "Four W's"—Who, What, When, and Why—for obtaining information and solving problems.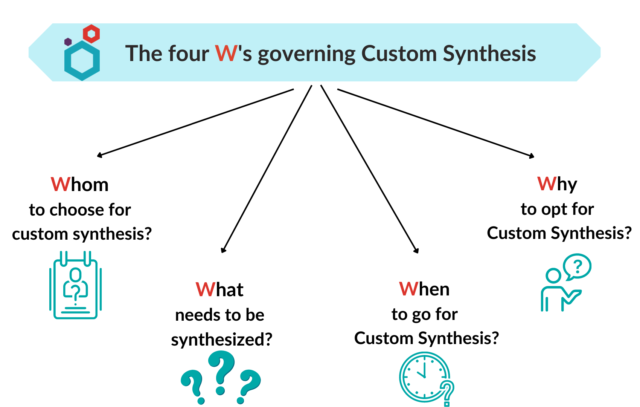 Who- The "Who" mostly relies on your unique requirements and volume, which might range from modest amounts of a reference standard to support a bioanalytical project to enormous amounts of API to support a clinical trial. For example – For large scale projects, you will want to consult with a large-scale Contract Manufacturing Organization (CMO). 
Your specific needs and scale can have a big impact on quality agreements, production systems, and contracting arrangements.
What- This includes a complete understanding of what kind of molecule you need. A complete research should be done in accordance with your material, regulatory and facilitatory requirements which will help you in selecting the correct organization.
When- At what point of your development process, you feel the need for customized synthesis of any molecule, also plays an important role. You may require procuring milligram to multi-gram amounts of reference standards, internal standards, impurities, or radiolabeled materials produced by custom synthesis.
It is essential to provide adequate lead time for the acquisition of starting material, the actual synthesis, and any other deliverables (such as a Certificate of Analysis). As the chemical or procedural complexity of a synthetic scheme rises, so does the necessary time. Timing will also rely on the regulatory method; cGMP synthesis, for example, will take substantially longer than a non-regulatory project.
Why- Even though it comes at the end of the list of the four W's, this is the very first question that you need to ask before moving forward with a custom synthesis. A well-designed study should always come first in order to prevent difficulties in subsequent stages.
Other factors affecting Custom Synthesis-
It can be difficult to choose an outsourcing partner that is compatible with your company's guiding principles and that also enhances your core competencies as a business. Some of the conditions that may affect your choice of Contract research organization (CRO) are as follows :-
The primary domain of expertise held by the CRO.

The size of the CRO.

The performance history of the CRO.

The financial stability of the CRO.

The certificates held by the CRO

(ISO 9001, cGMP).

Other soft factors relating to CRO like location, communication (language), partnership, ownership, trust (confidentiality and IP protection).
The end goal of custom synthesis is to make the process safe, sound, and replicable in order to achieve the highest level of production efficiency as is humanly achievable.
How is price calculated in Custom Synthesis?
The costs associated with custom synthesis services vary greatly from one project to another. It is a combined reflection of a number of parameters like varying prices of starting materials, the number of synthesis steps involved, varying risk profiles, R&D intensities, and requirements concerning purity, safety, documentation, and analytical specification. Scale and purity have a natural influence on the pricing.
In addition, one must be aware that the first-time synthesis of unique molecules cannot be compared to the synthesis of chemicals found in a catalogue or in a "supply chain." It should come as no surprise that the first-time, multi-step synthesis of novel compounds is far more expensive than straightforward, reproducible, and thoroughly documented synthesis of common chemicals. The pricing structure for the compound being sought is also affected by the contract model.
Also, the business of custom synthesis cannot be compared to the practice of acquiring chemicals from a supplier offering products in a catalogue. The labour, the purification, and the analytics are what end up being the primary cost factors of a CRO project rather than the starting materials themselves. As a result, increases or decreases in the target quantity of the customer do not result in proportional shifts in the price structure. In the majority of situations, the impacts of scale are minimal, particularly on extremely small scales ranging from 10 mg to 100 mg or even 500 mg. However, when one has built a verified synthesis, and the customer needs a regular supply ("Supply Chain Factory"), the relative product costs will reduce considerably, particularly for large quantities.
Contract Models in Custom Synthesis & Research
Fee for Service/ Fee for Results (FFS/FFR)
This category encompasses all R&D risks, and clients only pay if the company provides the desired compound or outcome. Numerous clients are attracted to the aforementioned strategy because the majority of synthetic procedures, particularly those aimed at unique chemicals, carry a considerable failure risk and necessitate an expert to offer multiple possible techniques and evaluate their viability. In addition, even syntheses reported in patents or scientific articles are sometimes not immediately replicable. The FFR model, however, reduces these risks for clients and makes projects predictable and calculable.
Full Time Employee (FTE)
Most CROs provide resource-based contract models, specifically the FTE contract option (Full Time Employee or Full Time Equivalent). The price of the FTE model is determined by the resources that are utilized rather than the actual outcome; hence, the client is obligated to make payment even in the event that the compound is unable to be produced as a result of unforeseen complications. The FTE model is appropriate for customers who have a significant demand for predictable custom synthesis services. This model is primarily applicable to large pharmaceutical companies that have a significant demand for medicinal chemistry services and want to extend their capacities with additional work force.
Advantages of Custom Synthesis
Extra external scientific and technological input.

Time saving.

Resources and cost optimization.

Choice of an "extended workbench" without the requirement to make significant investments in one's own employees or workplace.

Accessibility to complex target structures and materials
Challenges in Custom Synthesis
Custom synthesis proves to be a complex process for difficult projects, but many companies are traditionally on tight timelines. There is always a risk associated with the completion of the project within the deadline.
Also, trusting an organization with all your sensitive and confidential information also possess great risk. You need to hire a reputed legal consultant who can draft a stringent confidentiality agreement for you to avoid breach of confidentiality.
Macsen's Custom Synthesis: What makes us stand apart?
Macsen Labs has gained expertise in Organic & Inorganic chemical synthesis from lab to plant scale, through the years of experience in developing our own products.

Quick product development, Fast Response, Focus on cost optimization, Full confidentiality through Non-Disclosure and Confidentiality Agreements 

We can synthesize Organic & Inorganic compounds from milligrams to tons involving different kinds of chemistries, reaction conditions, processes, and isolation & purification techniques.
For a detailed description about Macsen's Custom Synthesis & Contract Research, you may refer here.
FAQs
Q. What are the types of Chemical Synthesis ?
One of the most important categories of chemical reactions is called the synthesis reaction, including reactions such as halogenation reactions, condensation reactions, oxidation reactions, coupling reactions, cyclisation reactions etc.
Q. Is contract research and custom synthesis a service that can only be provided to large pharmaceutical companies?
Absolutely not. This service does not focus on a specific demographic of clients and is not dependent on any one particular business.
Q. When I call for a price quote, what kind of information should I have ready?
In general, the answer to this question is that you should give as much information as you can. The more specific you are with your request, the more accurately we will be able to quote you and fulfil your needs. In general, we would require the following information, however this is only a rough indication:
Product Name
Molecular Formula, CAS No. (if known)
Quantity Required
Application
Any references to publication or literature references (if available)
Reaction Scheme